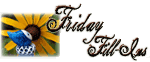 And...here we go!
1. Today I will be scheduling my time wisely because I have to finish tons of work, no more window shopping for gadgets for now, no FB, no YM just twitter!
2. My friend offers to do a favor for me because I don't have time and I say why not? It's actually a big help to me since I have many work to be done right now.

3. What do you think of the bills next month? I think it'll be higher wahhh!
4. At Starbucks it's free Pastry Day til 1030 Friday!
5. People say that what we're all seeking is perfect love but for me more than anything we have to seek God in order to find true love.
6. The image I cherish most is my kids' pictures when they were just babies. Those are priceless.

7. And as for the weekend, tonight I'm looking forward to finishing (hopefully) my tons of tasks
, tomorrow my plans include doing some house chores while getting some help from someone and Sunday, I want to forget my work and enjoy Sunday worship!