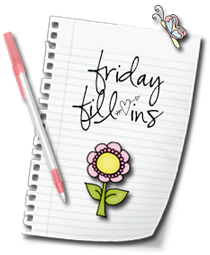 Graphic courtesy of
Tonya
!
And...here we go!
1. One week ago
I was busy with setting up my new blog.
2.
I wanted to be a writer and chemical engineer
when I was young.
3. Mama told me
this rule in spending " Do not buy what you do not need and do not need what you cannot buy"
4.
Hey Sis, we need to go and unwind somewhere, just
you and me.
5. Take your time
, and plan because it's the best way to start things out
.
6.
Another semester
will pass!
It will soon be semestral break for students.


7. And as for the weekend, tonight I'm looking forward to
resting my tired body from Josh' field trip
, tomorrow my plans include
downloading Josh field trip pictures
and Sunday, I want to
be early going to church
!
For more Friday Fill-Ins entry just click here