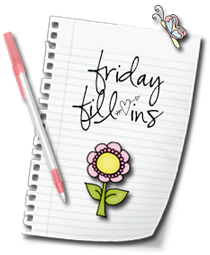 Graphic courtesy of
Tonya
!
Questions this week are courtesy of Karen and Maribeth. And...here we go!
1. I remember, I remember
clearly my son's birthday last year in school and it was so fun!
2. Dear
children
,
I want you to know
that Mommy will do everything I can to make you happy
3. Is that my
eyeglasses on the table? I've been looking for it for almost one hour, I'm not comfortable without it :-)
4. I'm trying to resist the temptation of
eating too much grilled foods
but I'm grilling liempo for our dinner later, I'll just do it next!
5. I'm saving
a
ll my best.....
just for you!
6. If I made a birthday list,
a lappy
would definitely be on it!!!
7. And as for the weekend, tonight I'm looking forward to
a nice grilled dinner with my family
,
tomorrow my plans include
buying
small monobloc chairs for Sunday school kids
and Sunday, I want to
see the kids enjoy their new set of chairs
!


For more Friday Fill-Ins entry just click here