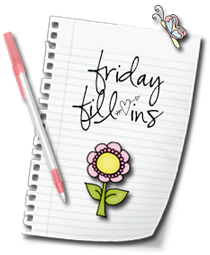 Graphic courtesy of
Tonya
!
And...here we go!
1. When will
I ever be free from busy schedule.
2.
Transformers: Revenge of the Fallen
was the last good movie I saw.
3. Everything has its beauty but
what's really important is how we use it for a good purpose.
4.
Baked
macaroni and pineapple
is what I had for dinner.
5. I'd like your
frequent visits and comments
.
6.
Cottage by the beach
is where I want to be right now.
7. And as for the weekend, tonight I'm looking forward to
rest my body from over fatigue
, tomorrow my plans include
going to CDR king for my blank CDs and canvas some items there
,
buy something for Ruth's birthday
and Sunday, I want to
check on the kids' sunday school needed items and count the number of kids for the new set of kiddie chairs.
For more Friday Fill-Ins entry just click
here