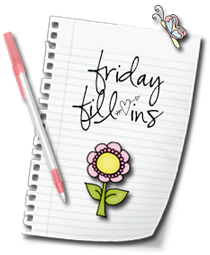 Graphic courtesy of
Tonya
!
And...here we go!
1.
Holy Week
is my favorite summertime
, this is the holiday that we get together to enjoy our annual summer camp fellowship
.
Holy week is also the longest holiday!
2. My favorite John Hughes movies is
Some Kind of Wonderful
.
I've watched this movie a couple of times when I was in college and years thereafter. It's really some kind of wonderful.
3.
Newborn baby
is something I love to touch.
The feel of baby's cheek, chin, hands and feet are unbelievably soft.
4. The full moon
is what the elders are looking at to declare the best time for marrying. We got married on a full moon but it's just a coincidence because we have our wedding date set long before we were told by our grannies and parents that we should set it on a full moon.
5.
I'm feeling tired and sleepy
right now
after a busy day of being with Gen in her Math Competition
.
6. When daylight fades
, I want to see and capture the beauty of sunset in my cam.
7. And as for the weekend, tonight I'm looking forward to
sleep tight
, tomorrow my plans include
reviewing my kids for their periodical exams
and Sunday, I want to
drop by CDR king for a new speaker and lots of blank CDs to store my pictures after our Sunday fellowship service.
Please
click here
for other Friday fill-ins entry.