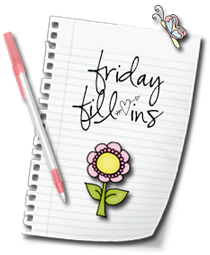 Graphic courtesy of
Tonya
!
And...here we go!
1.
Sandwich
and
Fruits
make a quick and easy dinner.
2.
The Book of Powerful Secrets
is the book I'm reading right now.
3. July brings back memories of
my friend Myrna's farewell to me two years ago, she's bound for East Timor then, I still miss her now
4.
A friend of mine
was obvious
ly bothered by my resignation
5. They say if you tell your
bad
dreams
it will not come to pass
.
6.
When I made my decision on resigning from my 16-year old job I told myself
to think it over
and after one year I realized that it ws the best decision for all of us.


7. And as for the weekend, tonight I'm looking forward to
having some rest from work and blogging
, tomorrow my plans include
going to my mom's hometown in Laguna
and Sunday, I want to
give my thanks to God for his blessings!
For other Friday Fill-Ins please
click here