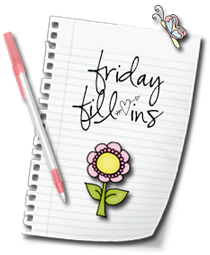 Graphic courtesy of
Tonya
!
And...here we go!
1. The last thing I ate was
green salad and fettuccini
.
2.
Sony Rechargeable Batteries for my Digicam
is something I recently bought.
3. When it rains, it
pours on me, I had many blessing this week
.
4.
Gen
was the first person I talked to today.
5. Hugs are
always coming from my three kids and hubby.
6.
I'm going to put up a little corner office in my house for
extra comfort
in doing my freelance writing
.
7. And as for the weekend, tonight I'm looking forward to
rest and sleep as many hours as I can
, tomorrow my plans include
cleaning the house, visit the kids' school
and Sunday, I want to
take some sky photos for my weekly meme
on our way to our Sunday fellowship service
.
For other Friday Fill-Ins please
click here